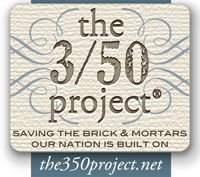 During some blog hopping last night, I came across this lovely badge on Leslie's
blog
. The badge then lead me to a great statistic about shopping in the local economy. 
"If half the employed population spent
$50
each month in locally owned
independent
businesses, it would generate more than $42.6 billion in revenue." ...and... "For every $100 spent in locally owned independent stores,
$68
returns to the community through taxes, payroll, and other expenditures. If you spend that in a national chain, only $43 stays here. Spend it online and
nothing comes home
." 
Check out project 3/50 for yourselves. It just may deter you from eating or shopping at the nearest chain retailer. 
Happy shopping.